STRATEGY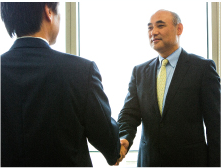 We plan and build ships corresponding to the long-term transportation requirements of the customers; the first class operators and/or cargo owners.
We make good use of our varied experience and know-how in planning to build ships to carry dry bulk cargoes (such as grains, iron ore, coal, etc.) and liquid bulk cargoes (such as LPG, crude oil, heavy oil, etc.) to provide our loyal customers ideal ships, meeting the rules and regulations of the calling ports and countries, and the customers' needs on navigation speed, fuel oil consumption, etc.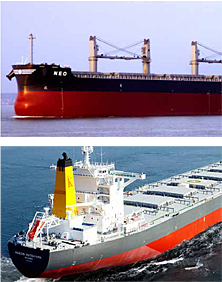 Since the foundation of our company in March 1972, we have contributed to development of Japanese industries through import of various resources with full support from top-class companies in the respective business areas in Japan.
These days transportation needs of dry bulk cargoes have been diversified due to industrial developments in China and other countries. To meet these requirements we provide various types of ships; dry bulk carriers of 200,000dwt, 70,000dwt or 50,000dwt type, LPG tankers, 100,000dwt type crude oil tankers, etc. Those ships of ours are trading all over the world including the Pacific Ocean, the Atlantic Ocean and the Indian Ocean to carry our customers' important and valuable cargoes.


Being ahead of other Japanese shipowners in terms of globalization, we established KUMIAI NAVIGATION (PTE) LTD in 1995 in Singapore, which is the most important location in the international shipping business, to earlier develop our overseas business base, preparing for the coming globalization trend in the 21st century.
Today, Kumiai Group have about 30 ships in Japan and Singapore, and contribute to world-wide ocean transportation, maintaining high trust and appreciation from our valued global customers.